Description
Juan Pablo Villota - Colombian Coffee Expert
Juan Pablo Villota believes colombian coffee should be treated like a great wine. Its terroir, its flavours, its aromas — all of these things should be considered and appreciated. 
What's This Class About?
The origin , and product proposal as a key factor to produce and enjoy a high end single origin Colombia coffee
Short introduction to Café de Colombia as a origin
Characteristics, Regions, Structure
Brief explanation of the coffee plantation and transformation of the coffee fruit
Harvesting, post harvest, dry mill and roasting
The importance of sorting the coffee fruits
Five Step Selection Process
How to brew a great cup of coffee
Extraction forces, coffee ratio and particle size
Recipes using V60 ( gravity force ) and Coffee Press ( immersion )
Learning to identify and to enjoy a specialty coffee cup
Origin, labelling, family,
Senses: Visual, Nose ( fragrance, aroma ) and Palate
Flavor and Aftertaste
*(If attendees want to brew their coffee brand and share their cup comments are more than welcome)
Why take this SommClass?
THE STORY
In 1972 Mr. Gustavo Leyva acquired the Alsacia farm in Buenavista Quindío, a longtime dream for him. Nevertheless, joy came at a difficult moment. His youngest son Alberto died on an airplane accident. To honor his son, the farm was named San Alberto. Since then, San Alberto estate has become an iconic farm of the region due to its rigorous agricultural practices. Three generations later, Juan Pablo and Gustavo Villota Leyva (grandsons of Mr. Gustavo), have transformed San Alberto coffee to Colombia's most award-winning coffee. The key for success has been the commitment towards flavor and a fierce protection of the natural and social conditions surrounding the farm. San Alberto is the largest employer of the little town of Buenavista, hiring men and single mothers. Discipline made them obtain two important sustainable agriculture stamps, Rain Forest Alliance and UTZ.
A BLESSED SOIL
San Alberto coffee is grown exclusively at San Alberto estate. Its flavor is intimately linked with this blessed terroir full of nutrients, rich in water springs. With a special microclimate that provides a characteristic flavor with a unique identity. The farm lies in Buenavista in Quindío, the smallest town of Colombia's smallest state (Quindío), amidst the Colombian coffee belt. Confluence of irreplaceable weather conditions: warm winds from the Quindío Valley and cold air from the Central Mountain Range sculp this land. As a result drastic daily temperature variations occur: 12- 30ºC
SAN ALBERTO COFFEE
San Alberto's flavor is intimately linked with the Colombia San Alberto estate, a blessed soil that provides a very characteristic flavor with unique identity.
FLAVOR OF SAN ALBERTO
A coffee with luscious, sweet aromatic notes, reminiscent of caramel and mellow dark chocolate, notable for its delicate fruit-like acidity and harmonious balance, which yields a distinctive and elegant carácter on the palate.
COFFEE TEMPLES
Open in Terraza San Alberto, Usaquén, Cartagena and Museo del Oro, with unique experiences offered at each location.
AWARDS OF SAN ALBERTO
Among the many awards Hacienda San Alberto has won from the International Taste and Quality Institute in Brussels are Three Gold Stars in 2012, as well as six consecutive Gold Awards from the Monde Selection (2104-2019), and the National Federation of Coffee Growers "Colombia, Land of Diversity" prize, given to the farm in 2017 for excellence in quality and social entrepreneurship.
A DEPURATED TECHNIQUE
Behind San Alberto´s flavors, there is a depurated technique which acknowledges that taking good care of a magical flavor is a big responsibility. Rigor plus artistic craftsmanship are key in every step. A signature process, The Five Step Selection, guarantees that only the best beans of the farm end up reaching the market. But it´s Juan Pablo Villota, the master coffee cupper, who artistically blends the flavors of the varietals cultivated at the estate, and creates a whimsical new flavor. On average no more than 60% of the farms production become San Alberto coffee.
Expert Juan Pablo Villota Leyva is taking full advantage of these ideal conditions to push Arabica beans to new heights, winning more awards than any other coffee grower in Colombia with his Café San Alberto.
You might say that Villota Leyva has coffee running through his veins after having been born in a coffee growing family.
He operates Hacienda San Alberto, perched on a steep ravine of the Central Cordillera of Quindio state. San Alberto was founded when Villota Leyva's grandfather Gustavo Leyva, defied local customs and planted his Arabica coffee trees 5,900 feet above sea level. His father, Eduardo Villota, would continue the family planting tradition before Juan Pablo would take over.
He combined his father's and grandfather's farming knowledge with an international degree from the University of Toronto's Rotman School of Management to develop a premium global brand with his Arabica Caturra, Arabica Castillo and Arabica Gesha.
Read MORE About Mr. Villota here>  https://www.sommtable.com/the-arabica-whisperer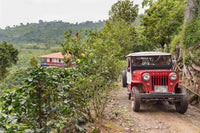 Colombian Coffee Baptism